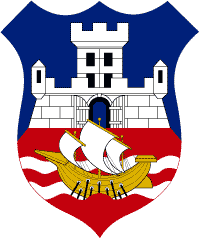 Belgrade Coat of Arms
The 6th International Symposium of "Europe" Lodges was held in Belgrade, during 10-12 May 2013. Belgrade is the capital and largest city of Serbia, built at the confluence of Sava and Danube rivers. It is an astounding old European location, as its first inhabitants were already attested in the 6th millenium BC. It is also a great place of destruction and revival, as it was battled over in 115 wars and razed to the ground 44 times, but it came back to life, every time greater and more beautiful.
We knew that the Serbian Brothers are very dedicated and ready to put in work great ideas, but this time they surpassed any expectation.
The works of the Symposium were moderated by W\Bro\ Igor T\, who also presided the Ritual Work, as Worshipful Master of the W\L\ Europa No. 27 from Belgrade. The Regular Grand Lodge of Serbia gave us its full support.
Here is the list of attendant Lodges:
Europa zu Neuen Welten from Wien, Austria
La Chaine D'Union Européene from Longwy, France
Evropa No. 27 from Belgrade, Serbia
Evropa from Tuzla, Bosnia and Hertzegovina
Porta D'Europa from Ispra, Italy
Europa 92 No.1078 from Florence, Italy
Europa No. 765 from Riccione, Italy
Európa Akáca a Mátraalján from Gyöngyös, Hungary
Europa Unită No. 27 from Bucharest, Romania
Europa No.162 from Athens, Greece
Europa No.1165 from Cagliari, Italy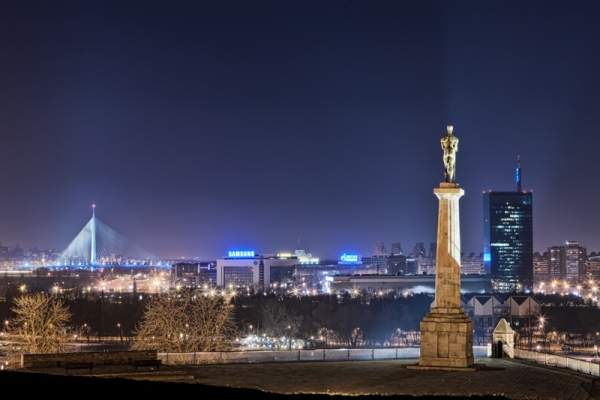 Belgrade Skyline at Night
On Friday, the 10th of May, a very important meeting of Worshipful Masters Assembly took place at Hotel Park. W\Bro\ Igor T\ presented a Regulation of our Assembly which contained the manner of voting and the formation of a Wise Men Committee. A new Executive Secretary was elected, in the person of our beloved W\ Bro\ Flavio B\. Immediately afterwards, Flavio got the task of improving the Regulation of our Assembly, as a token for his election. Some other consistent matters were debated, i.e. the publication of a quarterly magazine, or the making of a Foundation, but no decisions were taken.
The next day began with the works of the Symposium. Its theme was "Brotherly Love - The Fifth Element", both challenging and gratifying our hearts. During the Symposium, W\ Bro\ Vladimir D\showed us the realization of the site of our Assembly, quite a piece of work, which generated some debates, but was fully appreciated.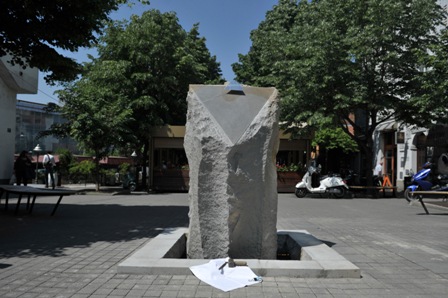 Europe Fountain
At 12.00 a.m. precisely, our Serbian Brothers surpassed any expectation, by inaugurating a Masonic Fountain in the center of Belgrade! The event was attended by R\ W\ Bro\ Lukas R\ deputy G\ M\ of R\G\L\S\ and by Mr. Branimir Kuzmanovic, mayor the Vracar district of Belgrade. Mass-media was, of course, present. The Regular Grand Lodge of Serbia donated the Fountain to the city of Belgrade. The design of the monument is due to our W\ Bro\ Svetislav Todorovic. May he design many other monuments!
The Ritual Work began in the afternoon. W\ Bro\ Vladimir D\, Past Executive Secretary of our Assembly, gave to R\ W\ Bro\ Liborius C\ a diploma naming him Honorary President of I\S\E\L\, and another diploma to W\ Bro\ Luigi L\, naming him Founding President of I\S\E\L\ .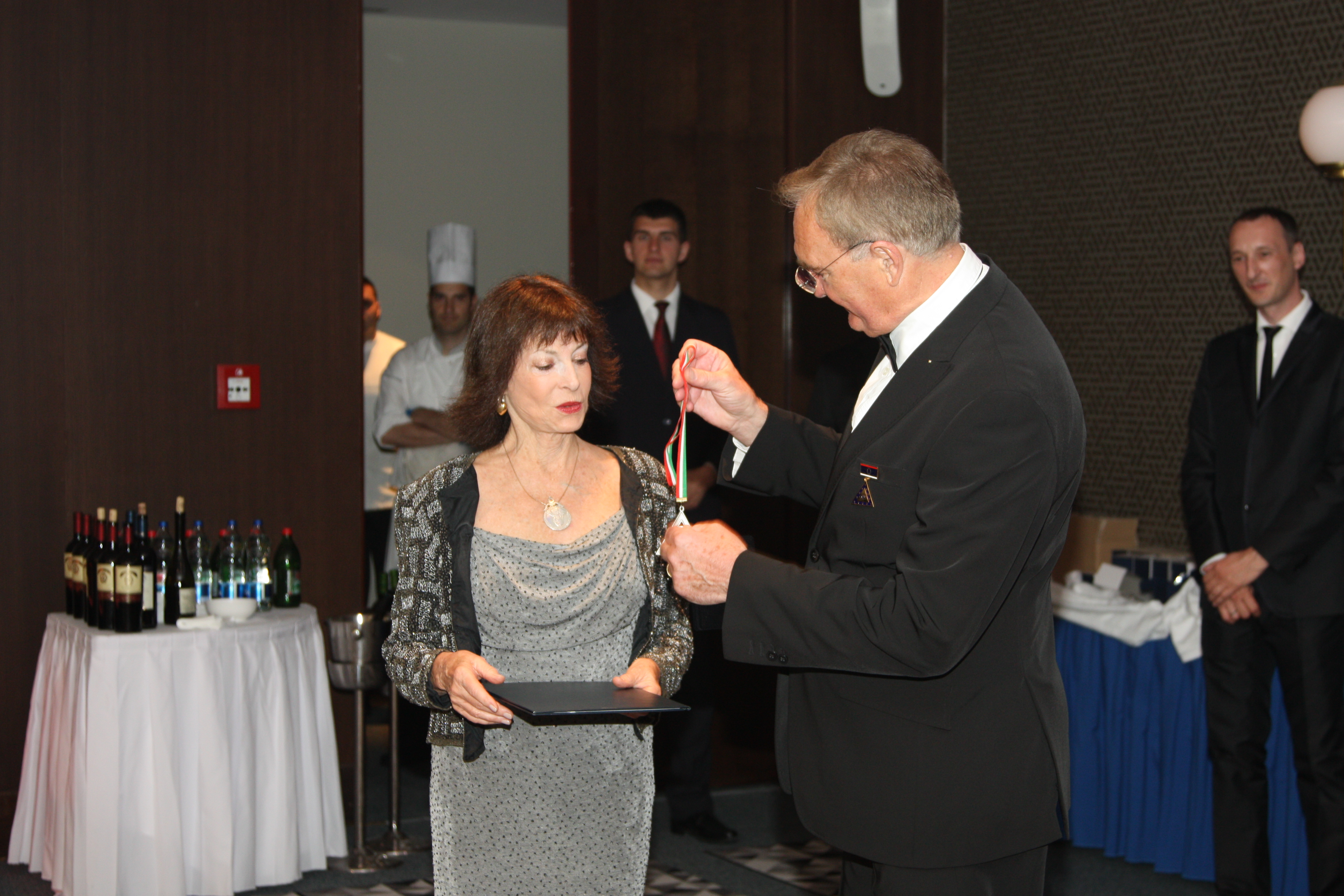 HRH Princess Elisabeth Karadordevic
And now, let's speak about the Gala Dinner. It took place in the evening, at Metropol Palace Hotel. Diplomas and prizes were awarded, food, wine, brotherly love and joy were everywhere, every time. Our star guests were a royal Serbian family: HRH Crown Prince Alexander and his lovely wife, Princess Katherine, together with HRH Princess Jelisaveta Karadordevic. HRH Princess Jelisaveta received the Galileo Galilei medal from Grande Oriente d'Italia (the great recognition which the Grande Oriente delivers to individuals who distinguished themselves in the defense of principles of humanity, searching values suitable for the realization of a better world). This medal was awarded in the past to Ytzak Rabin, Bill Clinton, Dalai Lama, Nelson Mandela, Salvatore Accardo.
The 6th International Symposium of "Europe" Lodges was a great Masonic Reunion ever to be held in Belgrade, second only to the World Masonic Meeting from 1926.