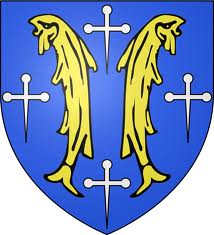 Longwy Coat of Arms
The 4th International Symposium of "Europe" Lodges was held in Longwy, France, during 6-8 May 2010. France is in itself a great Masonic land, and Longwy is very special, both by history and by craft. The French Brothers from "La Chaine D'Union Européene" took much care and showed much love in organizing the meeting, bringing together the historical tradition and our current European values. All these were nursed with the well-known good taste and the sense of fine arts, so characteristic to French soul.
A Temple was prepared into the Arsenal building, one of the most important monuments of the town.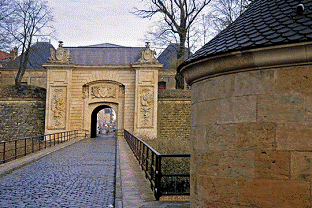 Longwy Fortifications
The guests arrived on Friday, the 6th of May, and were accommodated into the Threeland hotel. As Longwy is near the borders of Belgium and Luxembourg, and the hotel is in Luxembourg, a tour of Luxembourg was organized quickly after the arrival of the guests. Then, everybody was officially welcomed at the city hall of Longwy, by the mayor. A welcome dinner was prepared in the evening, at the Threeland hotel.
Many Brothers came with their wives, so a "Ladies' day" was organized on Saturday.
Here is the list of attendant Lodges:
La Chaine D'Union Européene from Longwy, France
Evropa No. 27 from Belgrade, Serbia
Evropa from Sarajevo, Bosnia and Hertzegovina
Evropa No. 162 from Athens, Greece
Europa No. 1165 from Cagliari, Italy
Europa 92 No.1078 from Florence, Italy
Europa No. 765 from Riccione, Italy
Európa Akáca a Mátraalján from Gyöngyös, Hungary
Europa Unită No. 27 from Bucharest, Romania
Europa zu Neuen Welten from Wien, Austria,
together with friends from many Lodges, not only French, but also German and Norwegian.
The works of the Symposium started on Saturday morning, and the theme was "The Chain of Union". The works were conducted by Bro\Eric T\, Past Master of "La Chaine D'Union Européene" Lodge. You can see hereinafter a selection of the delivered papers.
The Ritual Work, presided by W\M\Jean Paul H\, took place in the afternoon, in the Arsenal temple. A special ritual was written and performed on the occasion.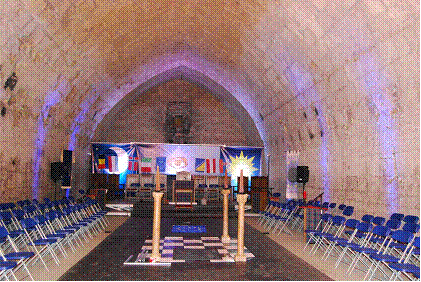 Arsenal Building of Saint-Martin
After the closure of work, the guests were offered a cocktail break at the town hall from Longwy and the traditional Gala Dinner at the L'Hôtel de Ville from Longwy. Joy, brotherhood, and then again joy were the notorious outcome of the day.